New South Wales company Boss Engineering is considered one of the most successful manufacturing stories in regional communities. Having started six years ago with only 20 employees, the company soon expanded to have 60 people on its staff and plans to increase that number to 100.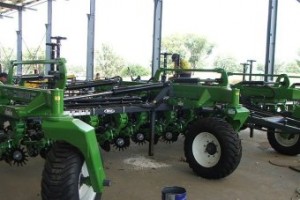 In an interview with ABC News' Lisa Herbert, Peter Mansur, one of Boss Engineering's directors shared how they evolved from being a company whose aim was to just sell tray bodies for trucks, into a business that deals with agricultural equipment.
Boss Engineering manufactures agricultural equipment including rippers, strippers, tillers, planting equipment, large broad acre planters and other accessories. Mansur said when the company started they did not intend to go into the agricultural business, until opportunities in the sector showed up and they decided to get back to that market. Now they also have a transport division and is looking into diversifying into other markets.
When asked what their major cost is, as a big manufacturing business in Inverell, Mansur said it would have to be employment and equipment.
"The first thing that springs to mind is employment," says Mansur. "We do use a lot of steel, there's no question about that, but employment, and then electricity is the other one that comes to mind."
"We don't have any mines close by. It's a nice, small country town, and the people who live here want to live here. We have a good pool of employees here that are happy to be here."
"A lot of the jobs we do are very specialized. We use a lot of robotics and there are not many places that people can go and learn those things. The big car manufactures use robotics but the way they use them is quite different to how we use it. We really train most of the fellows that are here on the job."
Mansur also shared that their steel comes from a combination of Australian and overseas suppliers. Most of the plates that they use for laser come from overseas, as it has to be a very straight plate with minimal scale on it.
Although it would be "fantastic" as Mansur said if Australia will be able to provide them with their other steel requirements, he does recognise that labor in Australia is very high.
He also admits that higher electricity cost has affected their business. Their electricity bill is about $40,000 a quarter and they have recently received a grant that allowed them to install solar panels on their roof.
In terms of energy efficiency, Boss Engineering hopes that the installation of the solar panels would give them about 25% in electricity savings. The company is also using power factor correction which is something that smoothes out the power flow into the business and makes the machines run more efficiently.
Published @ Australian Manufacturing