Broken Hill has been recognised as Australia's First Nationally Heritage Listed City for its role in creating enormous wealth, its enduring and continuing mining, importance to industrial relations and unionism, community resilience and ingenuity.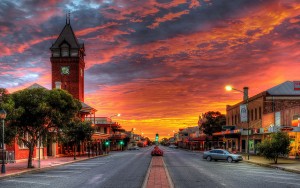 The recognition, which was announced at a presentation in front of the Town Hall Facade – one of the city's significant heritage-listed buildings – comes more than a decade of work and advocacy to have the city awarded with the prestigious honour.
Federal Minister for the Environment Greg Hunt, who bestowed the honour on the city at the presentation which took place yesterday, said the recognition would raise the international profile of Broken Hill and provide stimulus for the future development of the city.
Broken Hill's Mayor, Wincen Cuy, said the announcement was a proud moment for the city's community.
"Blood, sweat, tears and very good times have been part and parcel of our history. And while today's announcement looks at our past – our National Heritage Listing is now very much about our future. Our past is our future. We do have a great story to tell," Mr Cuy said.
"This recognition positions Broken Hill as the only entire Australian City to be awarded National Heritage Listing and therefore recognition as the most significant heritage tourism city within Australia. This prestigious citation will raise the international profile of Broken Hill, upgrade our visitor economy and provide our resilient community with momentum to endure in our efforts towards economic diversification."
The city was assessed against nine values by the Australian Heritage Council (AHC), including the following:
– Broken Hill's historic value taking into account its mining importance, industrial relations significance, and the initiatives with respect to regeneration of native vegetation
– Its rarity as a mining town with more than 125 years of continuous mining activity;
– Our research value with respect to mining inventions and diverse ore bodies;
– Our ability to demonstrate the principal characteristics of an evolving mining town;
– Its aesthetic significance;
– Our creative and technical achievements through the discovery of new and revolutionary mining processes;
– A place with strong community spirit and resilience;
– A recognition of significant people such as Charles Rasp, WL Baillieu, WS Robertson and GD Delprat.
"We are often spoken of as unique and distinct; a place like no other. We exhibit the strongest of qualities as a community. We have spirit, resilience, determination and a commitment to supporting each other," Mr Cuy added.
"Equally strong is our history and identity – a place known across Australia through the history of mining and workers' struggles, and as a place where history is ever-present. We are a proud community and this citation is wonderful recognition of all who have made Broken Hill what it is today, and will continue to make our great city into the future."