China's CITIC Pacific Ltd slammed Australian billionaire Clive Palmer for halting its long overdue $8 billion Sino Iron project in the country, which was intended to ease China's dependence on the world's biggest iron ore producers Vale, Rio Tinto and BHP Billiton.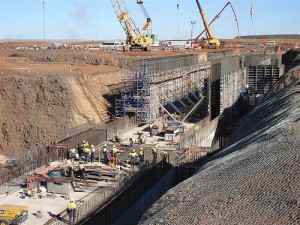 However, the plan backfired as CITIC Pacific and its contractor, Metallurgical Corp of China (MCC), ran into a bundle of regulatory hurdles, labour shortages, disputes over hiring Chinese worker, safety issues and mounting costs.
Moreover, Australian businessman Clive Palmer, who sold the rights to the ore to CITIC Pacific, has tried to block CITIC's port access and has issued a lawsuit against the company for hundreds of millions of dollars owed in royalties.
According to the article featured on Reuters, the current dispute between Palmer and CITIC Pacific is over a royalty stream called Royalty B, which is worth around A$200 million claimed by Mr Palmer. Company officials say the industry benchmarks under which Royalty B was to be calculated no longer exist, so the method of calculation needs to be resolved.
"Any claim that we haven't paid our fair share in accordance with agreements is just plain rubbish," said CITIC Pacific's President Zhang Jijing speaking in front of an audience comprised of 670 mining industry executives, bankers and lawyers in Melbourne.
Mr Palmer, who recently won a seat in Australia's Parliament after creating his own political party, was equally blunt in his response to the comments of Mr Jijing.
"The proposition is CITIC wants to come here and suggest the main consideration can't be calculated, yet they still want to take our resources back to China without paying for them," Palmer's company Mineralogy said in an emailed statement.
"In our opinion this is tantamount to stealing, and most Australians would be in agreement."
CITIC Pacific' Sino Iron project is developing at a much slower pace than the company had initially expected. CITIC Pacific shipped its first ore to one of its steel mills in December, over three years behind schedule and at nearly quadruple the original cost.
The company's shares took a dive to a four-year low of HK$7.90 last June then jumped to 55% to HK$12.28 by December following the first ore shipment. The shares have since plummeted again to the current HK$9.47 per share as iron ore prices have dropped to seven-month lows.