Holden has this week announced its 2012 financial results, revealing a net loss of $152.8 million.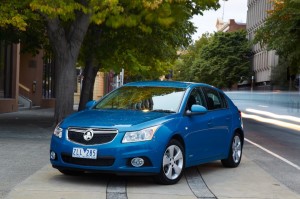 'The result included $226 million in special one-off charges associated with the restructure of the business – predominantly due to revaluing the company's manufacturing assets to align with reduced demand' Holden revealed.
All consolidated revenue was down from $4.3 billion in 2011 to $4.0 billion in 2012 due to lower sales of Australian made Commodore and Cruze and the blackout of Colorado prior to the new model launch.
Holden Chief Financial Officer, George Kapitelli believes Holden's 2012 financial performance was reflected by an extremely challenging and competitive car market in Australia with unprecedented price competition and discounting.
"Australia is one of the most open and trade-exposed automotive markets anywhere in the world with more than 180 passenger cars to choose from. With the Australian dollar at levels not seen since the early 1980s, this puts particular pressure on our Australian manufacturing operations," Mr Kapitelli said.
The strong Australian dollar has benefited the company in terms of imported models, however the manufacturing of Australian made vehicles has left the company exposed, with Mr Kapitelli revealing "we are the most trade-exposed of the local manufacturers, with 60 per cent of our sales from the locally produced Commodore and Cruze."
"Holden remains committed to a long term future in Australia – in 2012 we increased our capital spend in plant and equipment by $65 million to over $100 million in preparation for the launch of VF Commodore. Holden also spent $197 million on Research and Development (R&D) activities, taking our R&D investment to over $1 billion in the last 5 years," Mr Kapitelli added,
Holden Chairman and Managing Director, Mike Devereux, believes Holden had taken necessary action to change its business model to suit the shift in manufacturing procedures.
"We have restructured our manufacturing operations to improve productivity, reduce structural costs and  match production to demand, and at the same time we're focusing on new products and marketing initiatives to ensure our future competitiveness," Mr Devereux said.
Holden is looking forward to a positive 2013 thought, with the company confident the VF Commodore will win 'hearts and minds', as the most technologically advanced car ever created in Australia. And, the updated Cruze will help increase sales with its critically acclaimed local engineering and drive performance.
"These locally produced vehicles, along with the new imported Malibu and Trax models,will improve our market position in the second half."
"In addition to our new product investments, over the past few years, Holden dealers have invested more than $100 million in new and substantially upgraded facilities, vehicle service equipment and customer management systems, the largest dealer investment in decades," Mr Devereux added.
Published via Australian Manufacturing