West Australian gold explorer Lodestar Minerals Limited has announced the commencement of RC drilling at its 100%-owned Big Sky gold prospect within the Camel Hills project.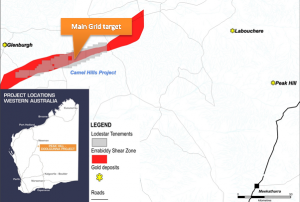 The company said that a program of 20 holes will test a 150 metre long gold geochemical anomaly defined by close-spaced auger sampling, as outlined in its Program of Works (POW) that was recently submitted to the Western Australian Department of Mines & Petroleum.
According to Lodestar, approximately 20 drill holes at an average depth of 70 metres will be completed for 1,400 metres of drilling.
"It is anticipated, on the basis of the current schedule, that the first assay results from the program will be available by late March," the company said in a statement to the ASX.
"Lodestar will inform shareholders when the drill program has been completed."
The Camel Hills project is located 170 kilometres northwest of Meekatharra and 60 kilometres south and east of Gascoyne Resources' Glenburgh gold deposits.
The tenements cover an area of 924 square kilometres and 90 kilometres of strike over the Errabiddy Shear Zone, which is a major structure forming a series of back-thrusts, 5 to 20 kilometres wide, emanating at depth from the Cardilya Fault, the tectonic boundary between the Archaean Narryer Terrane (Yilgarn) and the accreted Palaeoproterozoic Glenburgh Terrane to the north.