A state-of-the-art research facility dedicated to tackling Australia's biggest national and regional food security and environmental challenges had been launched on Wednesday by Prime Minister Julia Gillard and Minister for Tertiary Education, Skills, Science and Research, Chris Bowen.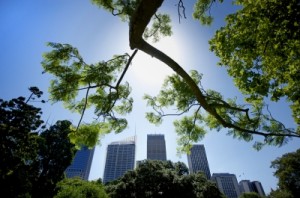 The Prime Minister announced  that the new University of Sydney Centre for Carbon, Water and Food at Camden, which has been built with the help of $4.69 million funding from the Gillard Government, "will help Australian agriculture meet the challenges of producing more food, of better quality while using less water and putting less carbon into the atmosphere."
In 2010 the Prime Minister's Science Engineering and Innovation Council recommended that the country should focus its attention on understanding the connection among energy, water, carbon, climate, agriculture, ecosystems, the economy and society.
This will ensure the food security of Australia in the future and the ability to survive and thrive in the face of future climate volatility.
The newly opened Center will answer this call, says the University of Sydney on their website, and will help to ensure Australia's future sustainability, "as well as its potential to act as a regional leader in food production and land management."
"It will help answer how to produce more higher-quality food, with less carbon emissions and more efficient water use. Its work will help tackle some of Australia's biggest environmental challenges such as those posed by the Murray Darling Basin, the interaction of agriculture and mining, as well as the resilience of areas that accommodate both urban and rural activity," writes the University.
The launch of the Center also marks a milestone in the partnership of Australia and China with the signing of agreements with two leading Chinese agricultural research institutions: the Academy of Agricultural Sciences China and the Nanjing Agricultural University. The agreement was sealed in the presence of the Ambassador of the People's Republic of China in Australia, His Excellency Yuming Chen.
"China is Australia's most valuable destination for exports of agricultural products and two way trade is growing, with Chinese sales to Australia growing at more than eight per cent a year," says Prime Minister Gillard during the launch.
"The understandings and agreements which will see shared endeavour in teaching and learning, research and innovation here and at your institutions in China are exactly the kind of positive human connections which bind Australia and China together more closely every year."
"These agreements are the culmination of several decades of collaboration already undertaken between University of Sydney researchers and Chinese colleagues from a multitude of institutions," said Professor Mark Adams, Dean of the Faculty of Agriculture and Environment and Head of the Centre for Carbon, Water and Food.
"Australia and China face many of the same challenges in food security. In China, for example, water yield and quality in major river systems and the land base for agriculture are threatened by both degradation and alternative uses, much like in Australia."