New Zealand's leading producer of sand and aggregates, Road Metals Co Ltd, has taken delivery of three of Volvo Construction Equipment's (Volvo CE) latest H-series wheel loaders to work at its quarries across the country.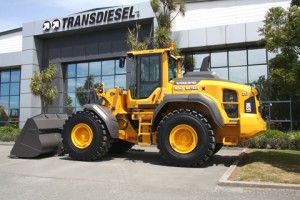 The new purchase brings Road Metals' fleet of Volvo CE wheel loaders, excavators and articulated haulers to a total of 53 machines that operate across its various sites throughout the South Island of New Zealand.
The company's Managing Director, Murray Francis, said he was proud that Road Metals' fleet – predominantly made up of the 20t L120 wheel loader – will be complemented with Volvo's latest H-series wheel loaders.
"The L120 is the perfect fit for our operation in terms of size, bucket size, speed and ease of transport. When the first L120 launched in 1994, I went to Volvo CE's factory in Sweden to see where the machines were built and a live demonstration," Mr Francis said.
"I was impressed with the professionalism of the staff and the manufacturing process. That year, we purchased a B-series model – and since then we've been the first company in New Zealand to take delivery of the L120C, the L120D, the L120E the L120F – and most recently, the L120H."
According to the Volvo CE press release, the latest generation H-series wheel loaders feature the Volvo D8J Tier 4 final engine and an all-Volvo powertrain that work in harmony to deliver power, reliability, performance and lower fuel consumption.
"The L120H features Volvo's award-winning OptiShift technology that lowers fuel consumption by up to 18%, while Volvo's patented Reverse By Braking (RBB) technology senses the loader's direction and slows the machine when the operator wants to change direction by reducing engine rpm and applying the service brakes automatically," reads the press release.
"It also features Volvo's Eco pedal that applies mechanical push-back force when the accelerator is used excessively and engine rpm is about to exceed the economic operating range – all of these factors contribute to making the L120H the most fuel efficient model in its class."
Mr Francis said Road Metals recognised the shortage of experienced machine operators in New Zealand and understood the importance of retaining the staff which helped the company grow over the years.
"We are very proud that many of our operators who were using the B-series loaders are still with us today. The operators love Volvos because of the comfortable cab and ride," he said.
Volvo CE is ranked as a leader in environmental care among the world's top producers of heavy equipment and is the first manufacturer to join the Worldwide Fund for Nature's (WWF) Climate Savers Challenge.